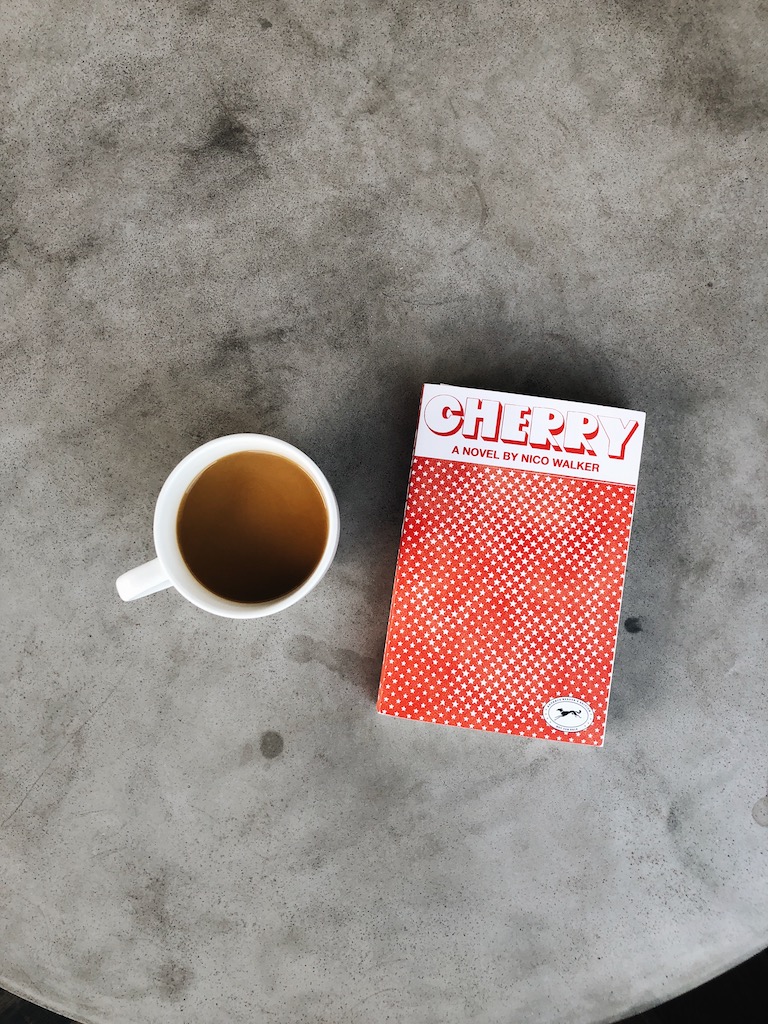 Gone are the days where we could kick back after school and spend all of our lazy summer days reading and playing outside. Goodness, how I envy the past. No excuses though! You can still make time to read if you try, and my goal this summer is to read more than I did last year. 
To get me started I've put together a summer reading list. Here's what's on my radar:
Cherry by Nico Walker
This book was sent to me by Aaknopf Publishing (thank you!) and I haven't been able to put it down. A little warning before you start, this subject matter is graphic. If you weren't a fan of Full Metal Jacket, Trainspotting, or Resevoir Dogs, chances are you proabably won't appreciate this novel. Nico covers addiction, war and what it's like to live a life of. It's one crazy ride of a book. I can't believe that this is Walker's debut novel. WOW.
Something In The Water by Catherine Steadman
Reese Witherspoon's book club pick for the month of June, Something In The Water is thee beach read.
A shocking discovery on a honeymoon in paradise changes the lives of a picture-perfect couple in this taut psychological thriller debut—for readers of Ruth Ware, Paula Hawkins, and Shari Lapena.
The World As It Is by Ben Rhodes
People are calling this one of the closets looks we'll ever get at Obama until he publishes his own memoir. The World As It Is is one of my Penguin Random House #partner picks for the summer. The author, Ben Rhodes, gives a fascinating look into the world as it was during the Obama Administration. And to think that Ben Rhodes was the national security advisor at the time, I can't imagine the things he's seen. I've always wanted to be a fly on the wall in the White House during those terms. Here's my chance.
VOX by Christina Dalcher
Anne Bogel, the host of the awesome podcast @whatshouldireadnext (go listen now) recommended this to me after learning that I love the Handmaid's Tale. Here's a quick summary:
On the day the government decrees that women are no longer allowed more than 100 words daily, Dr. Jean McClellan is in denial–this can't happen here. Not in America. Not to her. This is just the beginning.
Arcadia by Lauren Groff

Another rec from Anne Bogel. But this one is dystopian fiction. Here's a summary:
In the fields of western New York State in the 1970s, a few dozen idealists set out to live off the land, founding a commune centered on the grounds of a decaying mansion called Arcadia House. Arcadia follows this romantic utopian dream from its hopeful start through its heyday. Arcadia's inhabitants include Handy, the charismatic leader; his wife, Astrid, a midwife; Abe, a master carpenter; Hannah, a baker and historian; and Abe and Hannah's only child, Bit. While Arcadia rises and falls, Bit, too, ages and changes. He falls in love with Helle, Handy's lovely, troubled daughter.  And eventually, he must face the world beyond Arcadia.
White Fragility by Robin Diangelo
I can't remember where I first heard about this book. Maybe I heard about it on NPR? Or floating around bookstagram? Not quite sure, but as soon as I saw the title I ordered it from Amazon immediately. Race relations is something that will always be a part of my everyday life, but sometimes I struggle to talk about it with the ones I love. I hope this gives me a bit more insight into the world of race conversations.
What's on your reading list this summer? Be sure to let me know in the comments below! And cheers to summer your summer reads!