I fell in love with Paris in high school. I remember obsessing over the French films. The ones in sepia tones with subtitles running along the bottom of the screen, translating the symphony of a language I could not understand but somehow craved.
In college, my appetite for the French culture and language was only amplified, which led me to pursue a French minor. My professor was a tall, beautiful, curly-haired woman with the sweetest smile. Not only did she teach me the French language, but she also taught me French culture. The importance of fresh ingredients for cooking (market days), and preparing a meal for the entire family. The significance of work/life balance and soaking in every moment. The music of Edith Piaf and Carla Bruni.
While others dreamed of finding themselves in New York City, I often imagined that I would find what I was looking for in Paris. I knew that there had always been something there for me and that if I could just get there, the universe would make sense.
Here I am, several years later, FINALLY in PARIS.
So as cliche as this may sound, This trip is more than a vacation, it's a dream come true.
My sister and I touched down in Paris at 8:30 am, we were both pretty beat from the trip but our excitement outweighed the jetlag. We arrived at Hotel Royal Madeliene and checked in. We gasped when we opened the door to our room, a beautiful flat with a large terrace overlooking la rue Pasquier. Hotel Royal was kind enough to host us for the week and is absolutely stunning.
I'll be sure to share a room tour and review of this amazing hotel at the end of our stay!
After taking a quick nap, we decided to venture to Bouillon Pigalle for dinner, a 25-minute walk from our hotel. We made a few stops along the way, practicing my French here and there. And of course, we made a few wrong turns, but by getting lost we learned that the majority of the street names are actually ON the buildings, not on individual street signs like they are back in the states.
Before making it to Bouillon Pigalle, my sister and I decided to stop at Cafe Les Vedettes because it had an irresistible terrace! Joy and I ended up having dinner there.  We settled into our seats and to watch les bébés being carried on the shoulders of their fathers, teens zooming through the streets on scooters, and lovers holding hands. The waiter was patient enough to let me practice my French while we ordered, and after we completed our meal, he offered us recommendations on where to find the best crêpes!
Day 2
Today we felt the jetlag so right after breakfast we went back to our room to take a nap. After we caught up on sleep we went to see the Eiffel Tour in all of its glory. It is so much bigger in person that I thought it would be! I can't believe this structure is over 100 years old. We will definitely go back to see it again before we go, I don't think I was able to soak it all in. It truly is bizarre to see something you've only ever seen in photos or in film in person. C'est un rêve qui s'est réalisé.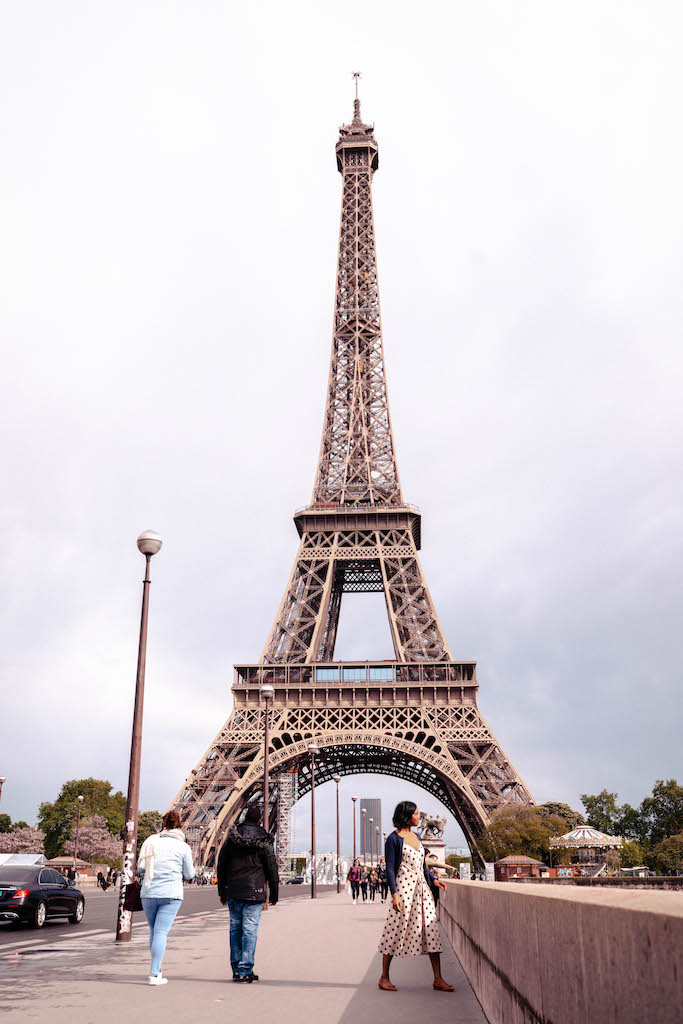 We strolled along the Seine for a bit before returning to the 8th arrondissement for dinner and getting caught in the rain.
In my next post I'll be sure to cover Versailles and the Louvre tomorrow so stay tuned for Part 2!