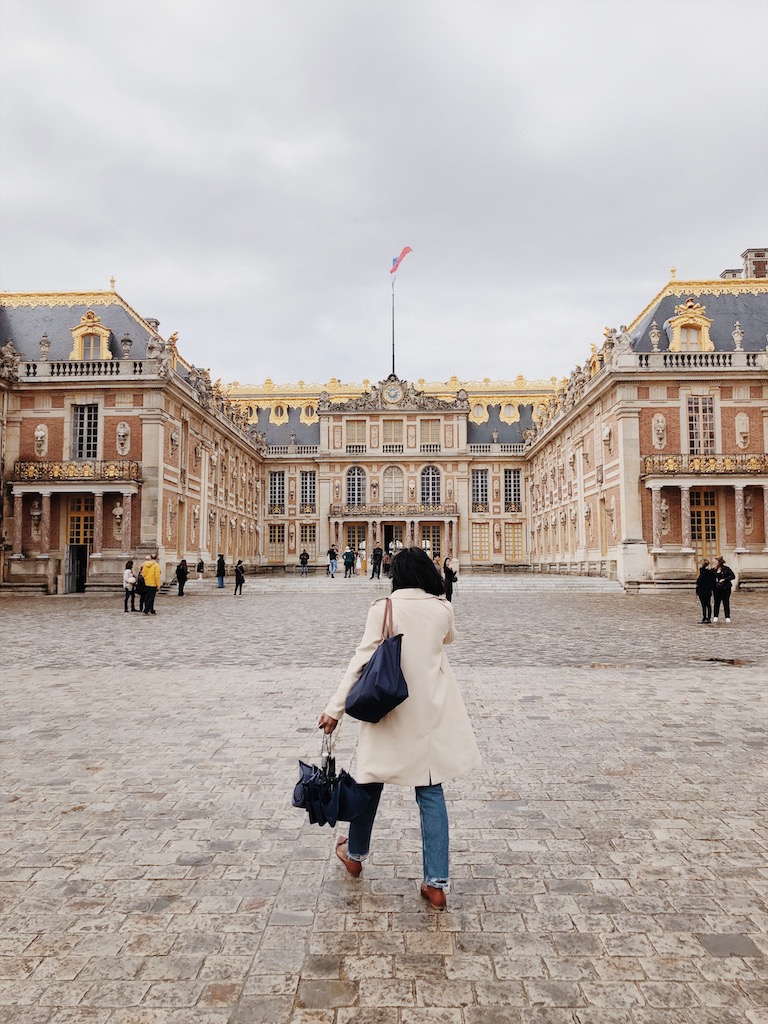 Before I booked our trip to Paris I knew that we had to see Versailles, one of the most opulent palaces in the world. So when a colleague of mine suggested that I check out Fat Tire Tours, I went straight to their website and landed on their Skip the Line, Walking Tour of Versailles.
We met our group right across the street from Cafe Regalia in a cute little park located in the 15th arrondissement. From there, our tour guide introduced himself and guided us to the nearest RER station that was headed toward Versailles.
It rained upon arriving at the Chateau de Versailles, but that didn't keep us from standing in complete awe before the gardens of Versailles. The vast sea of greenery that was designed centuries ago came to life as we strolled through very same gardens that once accommodated King Louis XVI and Marie Antoinette (among other royals). Our tour guide didn't let the rain stop him from giving us an entertaining and well informed commentary of the palace. I'd share all of the quirky facts we learned, but I don't want to give too many away! Except for the fact that back then the water was too dangerous to drink so the royals drank wine like there was no tomorrow.   
Cheers!
After a tour of the beautiful gardens, our guide led us to the front of the line to get inside of the Chateau. A really great perk of this tour if you don't want to spend hours waiting in line. Once inside, you have the option of picking up an audio device to guide you through the rooms and the Hall of Mirrors.
In highschool, I was obsessed with knowing every detail about Marie Antoinette's life, and I watched Sophia Coppola's film about Antoinette at least once a year. So it felt a bit surreal to step inside of her bedroom. As I stood there, I imagined all of her hands fussing about to help her get dressed, I thought about what she must have thought of royal life and how trapped she must have felt.
The Hall of Mirrors was the last stop before our tour ended. Originally designed to host extravagant parties and various court functions, the Hall of Mirrors was truly a sight to behold.
Thank you Fat Tire Tours, for allowing my sister and I to discover Versailles during our first trip to Paris! If you're traveling to Paris anytime soon, I highly recommend trying Fat Tire Tours. They have so many different options that you're sure to find the perfect match for your traveling style and group size. Whether that be a bike tour, walking tour, or a picnic beneath the Eiffel Tour.
*This post does include affiliate links from my partner Fat Tire Tours. All opinions are my own.